Important contacts
Technical
support
Sales returns
+420 533 338 899
Proxim
Would you like to learn more?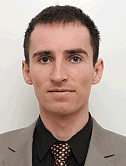 Your questions on Proxim products
will be answered by
Jiří Hráček
, Product Manager - Proxim.
Contact:
e-mail: jiri.hracek(at-sign)intelek.cz
phone:
+420 5 3333 8806

Proxim is the United States manufacturer of wireless system for non-licensed bands of 2.4GHz and 5GHz and recently also for the licensed band of 3.5GHz. The Proxim company has been part of the Terabeam company since the summer of 2005. The Proxim company mainly specializes in the wireless LAN systems, the broadband wireless network systems, which are applicable for indoor installations to cover the entire offices, buildings or premises, as well as for outdoor applications of connections primarily utilized by Internet Service Providers and telecommunication operators. The product line of the manufacturer covers connections of PtMP and PtP, and the most known product lines are ORiNOCO, Tsunami MP.11, and QuickBridge.
The Proxim company is the top international manufacturer of VF technologies, including the coaxial VF connectors, connecting cables, optical elements, antennas, microwave components, and multi-pin connectors for automotive, telecommunications, military and aircraft industries.
If not specified prices are without VAT in EUR.