Important contacts
Technical
support
Sales returns
+420 533 338 899
Ultra secure wireless solution from Proxim
Proxim Wireless is expanding the WiMAX Family to include FIPS 140-2 Level-2 compliant indoor and outdoor broadband products to provide highly secure mobile video surveillance, data connectivity and VOIP wireless solutions for governments, utilities and enterprises in the 5.1-5.95 GHz, 4.9 GHz, 2.4 GHz and 1.8 GHz frequency bands.

The HS line of products represents Proxim's "ultra-secure" line of products, combining FIPS 140-2 level 2 compatibility, advanced AES-256 encryption, and secure management (SSH, HTTPS, and SNMPv3), meeting strict U.S. Federal Government standards, all in one truly integrated solution. With the new Tsunami MP.11 HS product family, Proxim combines government-grade wireless security with the performance needed to support high-speed data connectivity and bandwidthintensive applications, such as real-time wireless video surveillance, VoIP, and more.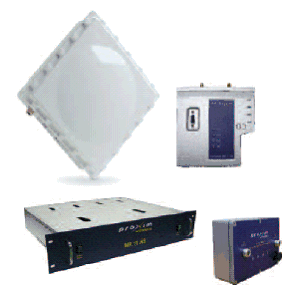 Figure 1. – Tsunami HS products
TARGET MARKETS
- Federal, state, and local governmental agencies
- Department of Defense
- Law Enforcement Agencies
- Healthcare
- Banking and Financial Institutions
- Utility companies
- Educational Institutions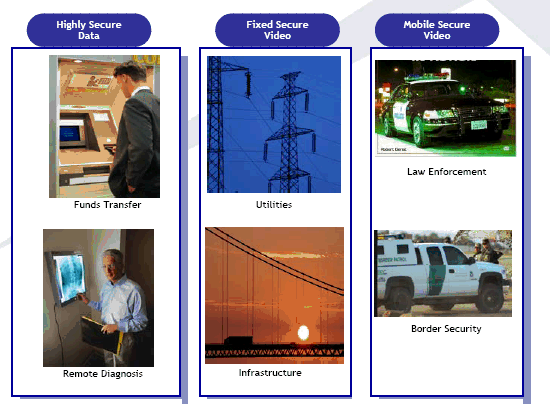 Figure 2. – Tsunami HS products
FEATURES
FIPS 140-2 security
- High speed integrated FIPS hardware to fully provide all requirements of FIPS 140-2 cryptographic messages.
- FIPS 197 compatible AES-256 for a high level of wireless encryption
- Secure Browser HTTPS interface
- Secure CLI with SSH and SSL
- Secure management using SNMPv3
- Tamper-proof labels
Many radio choices
- 2.4 GHz
- 5 GHz (4.9 GHz to 5.95 GHz)
- 1.8 GHz (1.75 – 1.85 GHz) U.S. Federal government only – May not be used by any other entity
- 5, 10, and 20 MHz bandwidth channels
Seamless Roaming in speeds up to 120 mph
- Important for mobile applications since offered products in this family are for mobile vehicles.
BENEFITS
Fast and Simple to Install and use
- As with all Proxim outdoor products, the MP.11 HS family is exceptionally easy to install and maintain.
- May be installed within hours without training or wireless experience.
Single box solution
- Everything necessary for FIPS 140-2 security is contained within the radio unit. There is no need for separate indoor units to encrypt data before connecting to an outdoor wireless radio which would require additional setup, management, and maintenance.
- Only one box to manage for wireless and FIPS security. Competitors rely on two or more boxes.
Meets Government Level Security
- Meets DoDD 8100.2 – U.S. Department of defense – Use of Commercial Wireless Devices, Services, and Technologies in the Department of Defense (DoD) Global Information Grid (GIG).
- Many other industries and applications depend upon these requirements and MP.11 HS meets those them.
Dependability
- It's a new product built upon the dependability of the field proven MP.11 with hundreds of thousands of units installed.
High-speed roaming with video
- Capable of providing enough encrypted data throughput to high-quality video.
- Provides WiMAX-like QoS.
- Can provide seamless roaming at speeds up to 120 mph.
The Tsunami MP.11 HS family is ideal for financial institutions concerned with protecting confidential data, healthcare organizations concerned with HIPAA and other compliance issues, utilities providers, hyper-secure enterprises; in other words any and all organizations that need to ensure the highest level of security for their wireless systems. By combining this high security with the high throughput required for bandwidth-intensive video, the Tsunami MP.11 HS solution is appropriate for use in security video surveillance in ports, cities, and along transportation infrastructures.
The Tsunami HS portfolio contains Base Stations/Client stations in two versions - outdoor with PoE and indoor with 12 VDC power supply. You can find more information on Proxim's web pages -
here
, or you can contact
Intelek, spol. s r.o.
(Official Proxim's distributor). Tsunami HS is unique solution supporting the highest level of wireless security. It is ideal solution for the most exacting instalations and aplications. For more information please contact responsible Product manager in Intelek -
here.
Author:
Ing. Jan Vaculín
If not specified prices are without VAT in EUR.